Style No.SS02590 & Style No.SS02591 / SUN SURF "MACINTOSH UKULELE" & "ALOHA QUEEN" SLIP-ON SHOES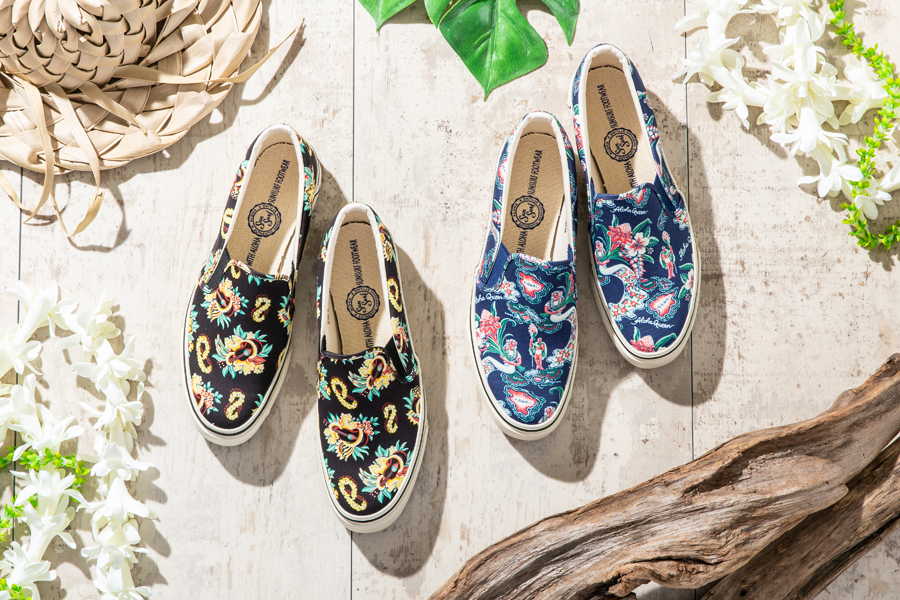 ヴィンテージアロハシャツと同年代にハワイのビーチ・ボーイたちが履いていたスリップ・オンのスニーカーがモチーフ。1940~1950年代のヴィンテージアロハシャツのデザインをコットンツイル生地にプリントし、裁断して縫製。日本で長年スニーカーを作り続けてきた熟練の職人の手により、ソールをバルカナイズ製法で圧着している。テキスタイルデザインと古き良き製法にこだわったサンサーフならではの一足。
バルカナイズ製法:1839年にアメリカで考案されたスニーカーの製法。硫黄を混ぜたゴムを使い、釜の中で時間をかけて熱と圧力を加え、化学変化させることで接着と成型を同時に行っている。ソールとアッパーの結合が強く、ゴム部分もしなやかで丈夫に仕上がるのが特徴。
Sun Surf was inspired by the slip-on sneakers the beach boys loved to wear in the golden era of Hawaiian shirts, and produced original sneakers using the cotton twill fabric with impressive designs from vintage Hawaiian shirts printed. The soles are attached by vulcanization process which is the classic way to make sneakers. They are old school sneakers that can be made only by Sun Surf that is particular about textile designs and manufacturing methods.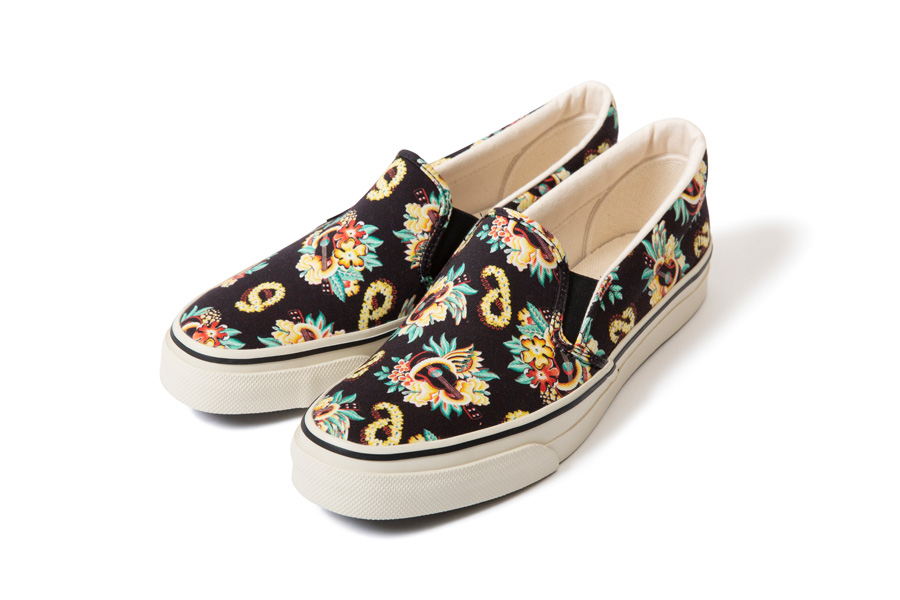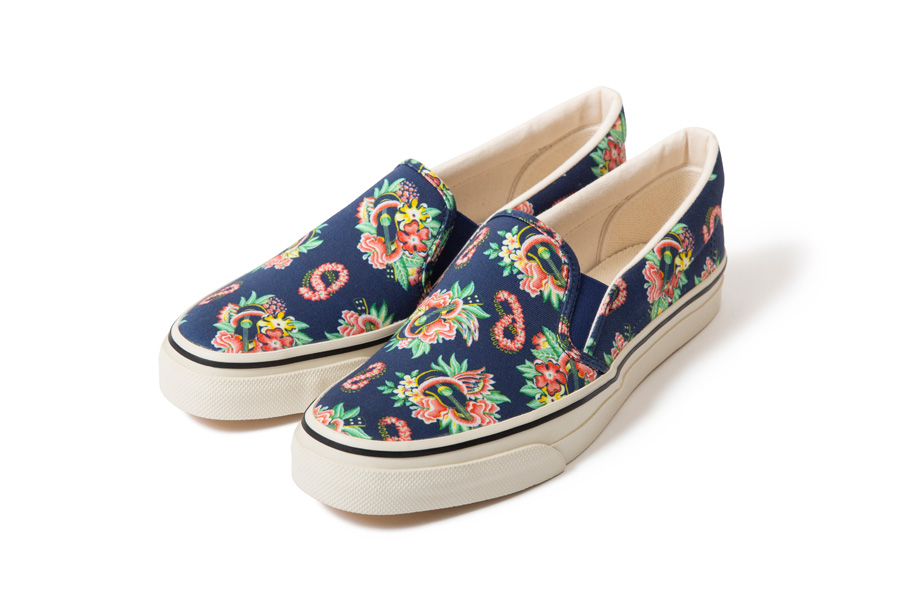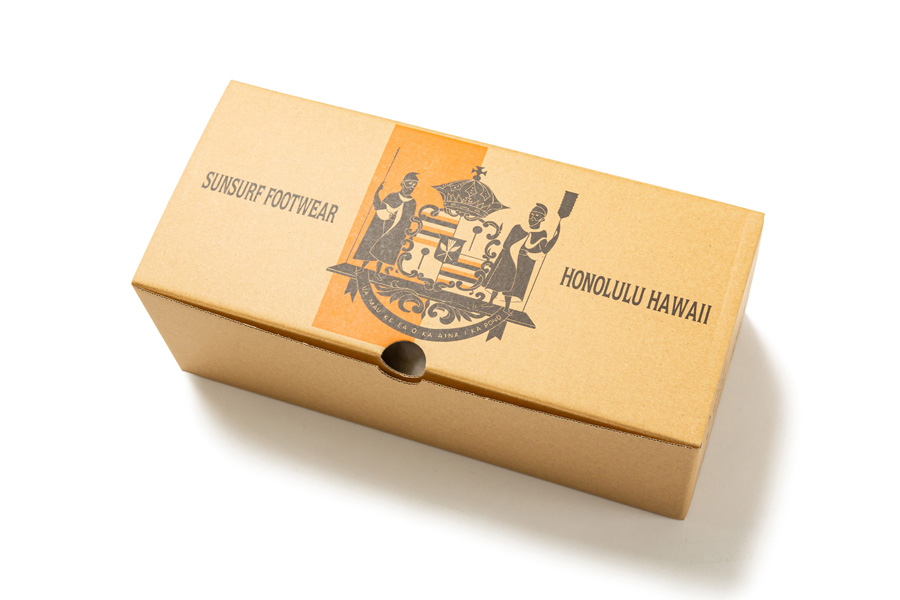 SUN SURF
"MACINTOSH UKULELE" SLIP-ON SHOES
Style No.SS02590 ¥13,800 + tax
Size: 7, 7.5, 8, 8.5, 9, 9.5, 10
世界中のコレクターを魅了するヴィンテージアロハシャツ。数多のデザインが現存しており、彼らの収集欲を飽きさせることはない。一口にヴィンテージと言ってもコレクターの評価は様々だが、優れたデザインは名作として高い人気を誇る。1940年代後期に作られたこの「メニュー柄」もそのひとつ。当時、サンフランシスコとハワイの間を航行していた豪華客船マトソンラインのレストランメニューの表紙がモチーフで、デザイナー「フランク・マッキントッシュ」が描いたウクレレの絵柄をテキスタイルデザインに落とし込んでいる。
This Hawaiian shirt made in the late 1940s, so called "Menu"design, is regarded as one of the masterpieces of vintage Hawaiian shirts. The motif comes from a menu cover of the restaurants on luxury liner, Matson Line, that offered cruising services between San Francisco and Hawaii in those days. The famous menu cover depicting a ukulele was drawn by Frank Macintosh.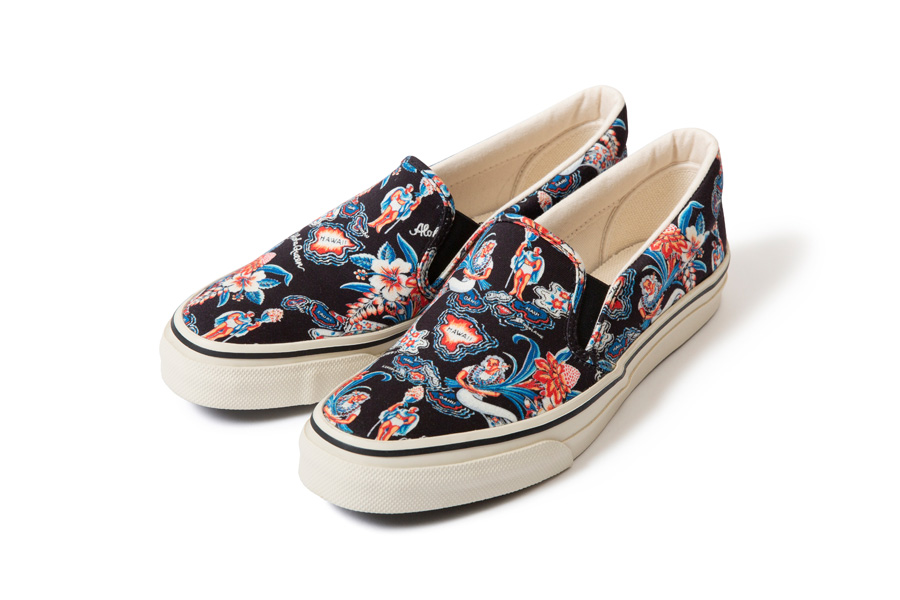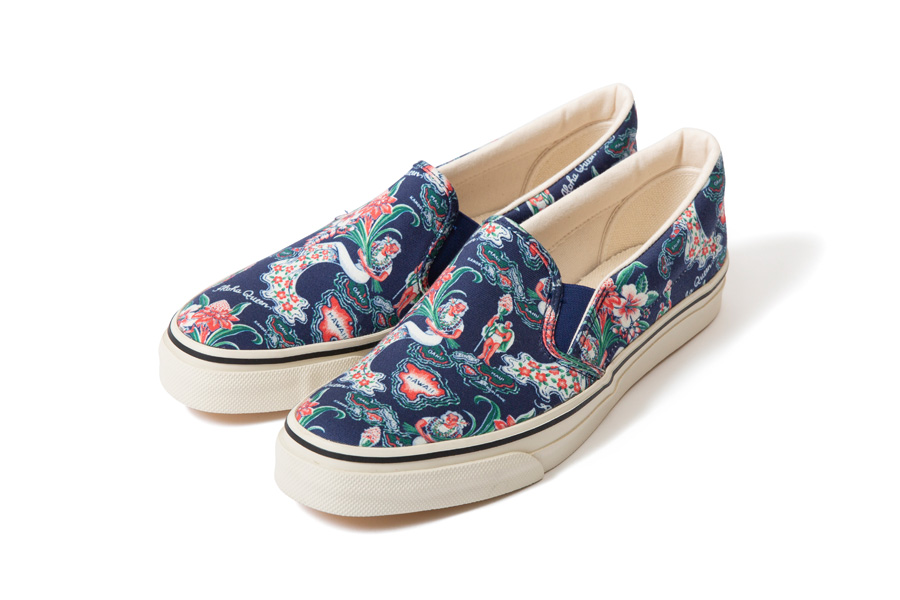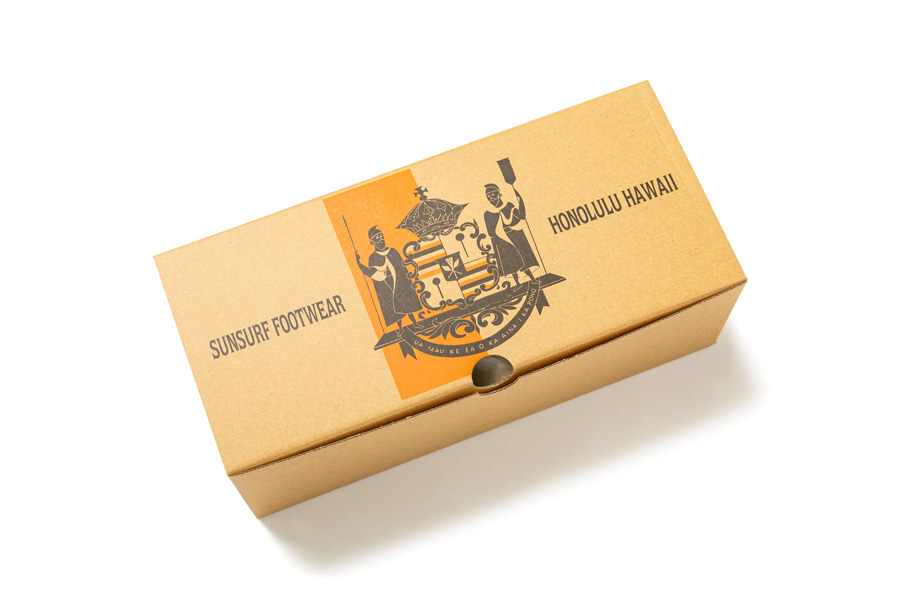 SUN SURF
"ALOHA QUEEN" SLIP-ON SHOES
Style No.SS02591 ¥13,800 + tax
Size: 7, 7.5, 8, 8.5, 9, 9.5, 10
この「ALOHA QUEEN」は1950年代にカリフォルニアのメーカーが手掛けたヴィンテージアロハシャツのデザイン。メインのモチーフはハワイの島々とアロハクイーンで、彼女が抱えるハイビスカス、トーチジンジャー、シェルジンジャーといった南国の花が色鮮やかにプリントされている。また絵柄の中にはキング・カメハメハも描かれており、一見するとハワイのブランドが手掛けたデザインにも見えるが、洗練された構図や配色のバランスにアメリカ本土のブランドならではのセンスを感じる。
The "ALOHA QUEEN" is a vintage aloha shirt produced by a California manufacturer in the 1950s. The main motifs are Hawaiian Islands and Aloha Queen holding the tropical flowers such as hibiscus, torch ginger and shell ginger that are all printed brilliantly. It is interesting to note that since King Kamehameha is also designed in the art, it looks like a shirt designed by a Hawaiian brand, but actually by a Californian.
サンサーフ・オンラインストア
SUN SURF ONLINE STORE