SUN SURF × 葛飾北斎 SPECIAL EDITION 「日本の意匠 National Treasure of Japan」 Vol.002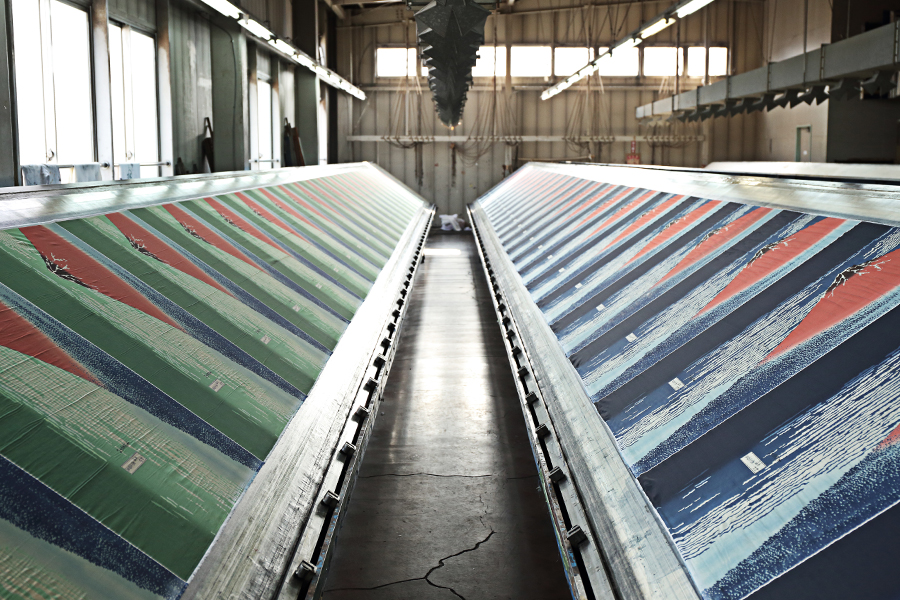 The print method used for Sun Surf's Hokusai collaboration Hawaiian shirts is "Indigo Printing". Indigo "Dyeing" is a method to dye fabrics and yarns to dark indigo color by repeating the process of soaking them in dye solution and exposing to air for oxidization.
"Indigo Printing" is proceeded basically with the same logic as that of indigo dyeing. However, fixing indigo to fabrics with one same color requires highly advanced printing techniques. As Indigo color is very sensitive even to temperature and humidity, skilled artisans have to make detailed adjustments relying on many years of experiences.
サンサーフが北斎作品とのコラボレーションアロハシャツに採用しているプリント手法、それが藍捺染(あいなっせん)。通常、広く知られている藍染めは、染液(せんえき)に藍植物から発酵させたインディゴを溶かし、生地や糸をその染液へ浸したあと空気に触れさせ、酸化させることで藍の色を定着させている。そして、この工程を何度も繰り返し、色に深みを出しているのである。
対して藍捺染は、この藍染めの工程を大気中で完結させることで、深みのある発色を可能としている。しかしながら、一定の色で生地に藍の染液を定着させるのは至難の業。高度な捺染技術を要することは言うまでもなく、発色は気温や湿度などの環境に左右されるため、熟練の職人が長年の経験から得た判断で細やかな調整を加え、版を摺り重ねている。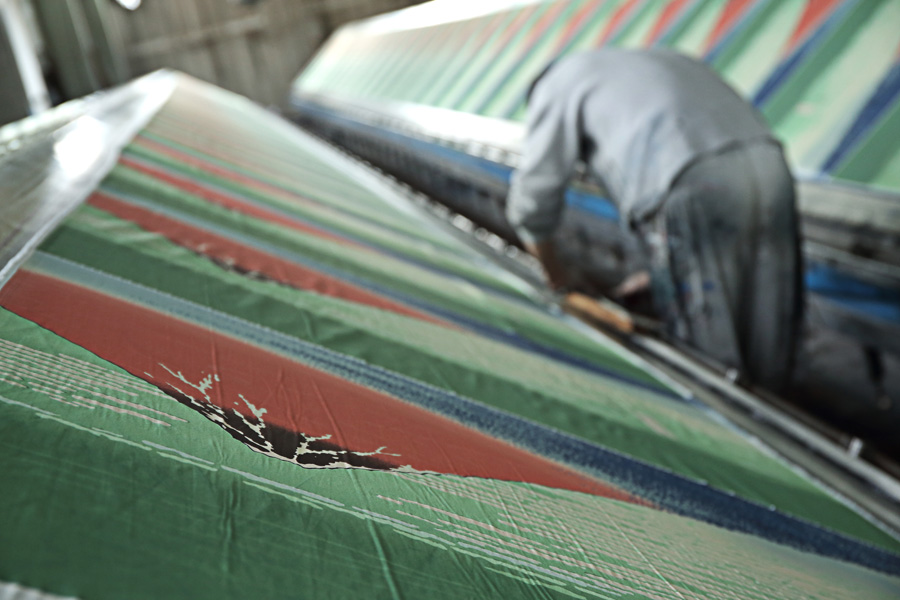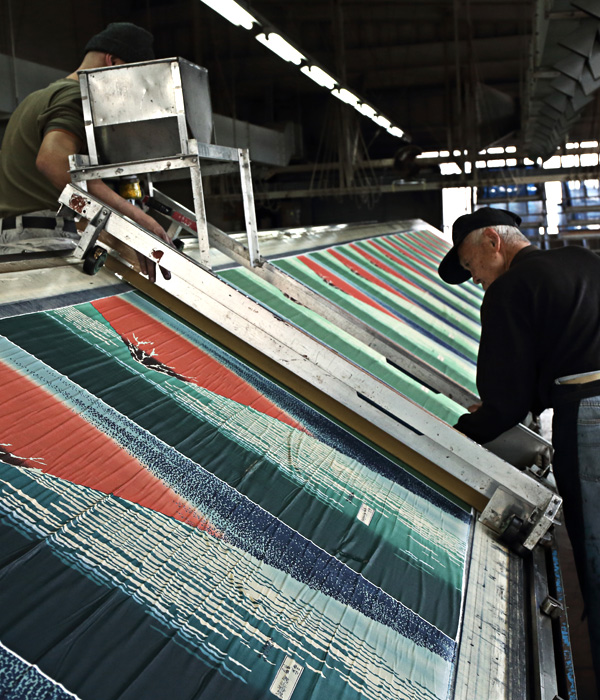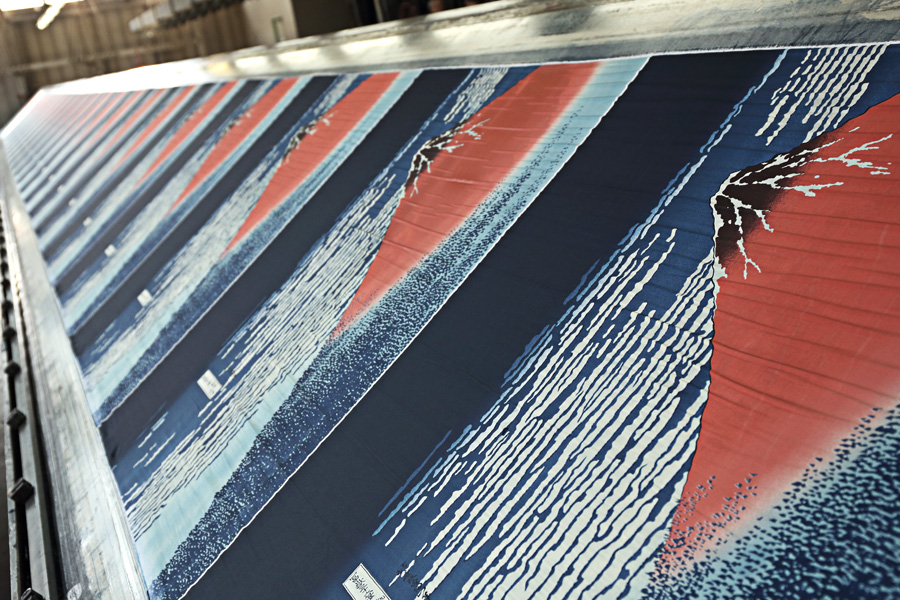 The fabrics that has just been printed look very greenish before the indigo is not oxidized yet. From this point on, The oxidizing process changes the green to vivid Indigo color. The Indigo color printed in this way will have more patina as worn over time.
こうして摺り上げられた生地は、プリント中に酸化させない特別な技術を施しているため、藍が酸化する前の緑がかった状態。ここから最終工程で一気に酸化させ、捺染台に貼られた生地は瞬く間に緑から藍色へと鮮やかに発色していく。こうして手間暇をかけて作られた生地は、新品時の風合いはもとより、使い込むことで藍が経年変化し、さらに味わいを増していくのである。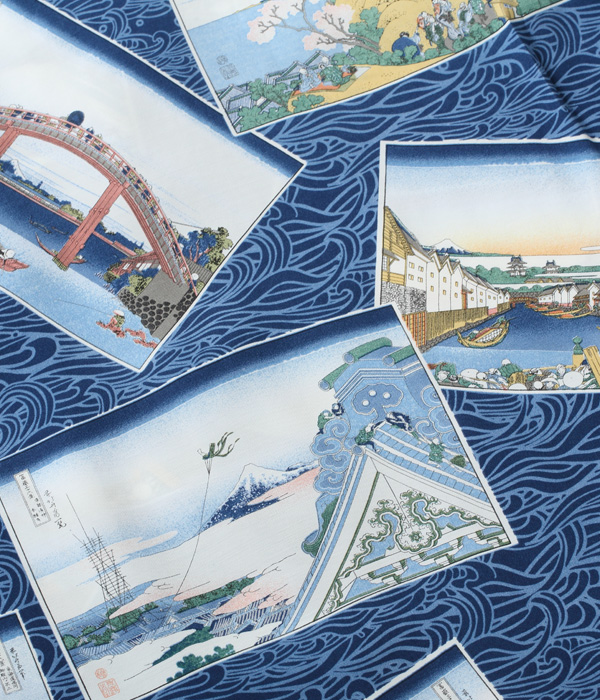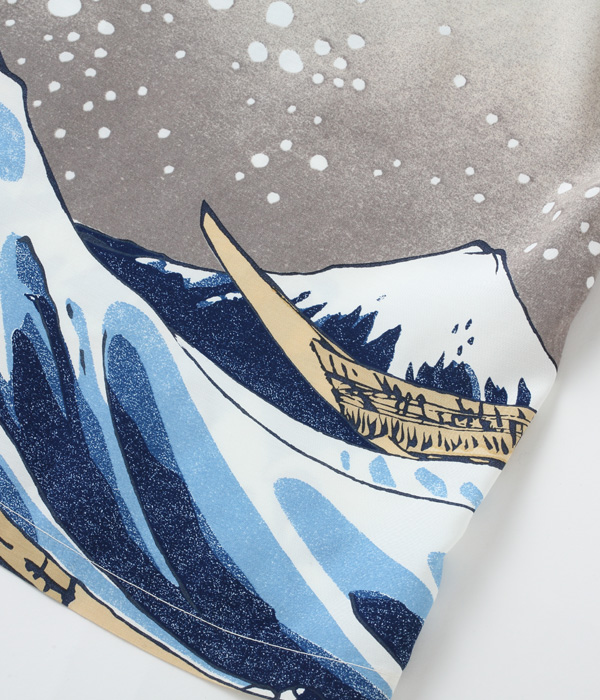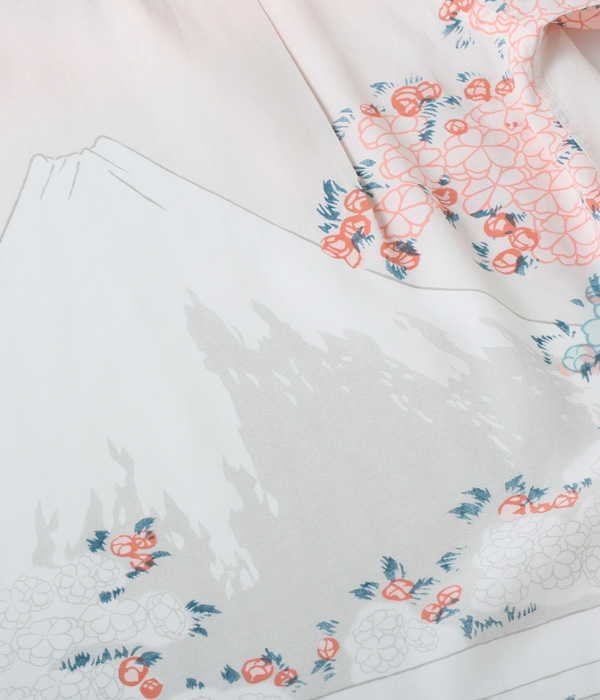 The Indigo Printing is used for "Five landscapes of Edo", "The Great Wave" and "Red Mt. Fuji".  In addition, the high-skills is being applied to the newest shirts in this season, "Mr. Fuji with Cherry Tree" which uses the red pigment extracted from natural madder. The advanced textile-printing techniques that Japan has cultivated since ancient times, and the charm of natural ingredient such as Indigo and madder.  The Sun Surf's Hokusai collaboration Hawaiian shirts are produced based on these elements.
これらの「江戸五景」「神奈川沖浪裏」「凱風快晴」などの作品には藍捺染を採用。今季はその技術を応用し、「桜富士」には天然の茜(あかね)から抽出した赤色顔料を使用している。日本が古くから培ってきた高度な捺染(プリント)の技術。そして、北斎の時代から使われ続けてきた藍や茜などの染料が持つ魅力。これらを最大限に生かし、サンサーフと北斎作品のコラボレーションアロハシャツは生み出されている。
日本の意匠 National Treasure of Japan
SUN SURF × 葛飾北斎 SPECIAL EDITION
Lot No. SS37917 / SUN SURF × 葛飾北斎 SPECIAL EDITION "凱風快晴"
Lot No. SS38469 / SUN SURF × 葛飾北斎 SPECIAL EDITION "江戸五景"
Lot No. SS37651 / SUN SURF × 葛飾北斎 SPECIAL EDITION "神奈川沖浪裏"
Lot No. SS38468 / SUN SURF × 葛飾北斎 SPECIAL EDITION "桜富士"